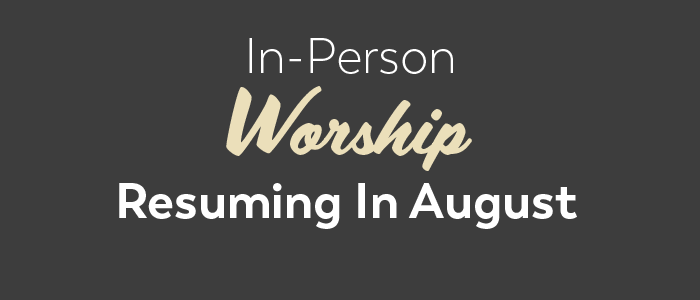 See How Worship May Look
Different Starting August 16th
General Requests:
All those coming in the building are asked to wear a mask while in the building and to maintain a 6-foot safe distance from others. This also applies to coming in the main doors from the Plaza – please do not gather up as a crowd at the doors but keep a proper 6-foot distance.
This is being asked because studies have shown that wearing a mask and safe-distancing – when done together – are highly effective for reducing the spread of the virus.
Wearing a mask also can be helpful for easing the anxieties of those around you – a way of showing love for others.
If you are in the more vulnerable categories of those who can be most significantly impacted by the virus WE ENCOURAGE YOU TO REMAIN AT HOME and join us online for worship. We want you to remain safe and healthy.
Vulnerable categories include:
Those over 60 years of age
Those with suppressed immune systems
Those with other health conditions that may compromise your immune system
As with any place these days – if you have any symptoms or think you might have been exposed, please remain at home and worship online.
Before you arrive:
Please go to the top of this page and reserve a spot for your family. This will help us ensure we are not putting too many people in one of the rooms we are using.
If you do not have access to the online reservation system, you can call the church office at 936-756-3395 and put in extension 111 when prompted.
Coming into the church:
FMC Table and Traditional attendees will enter through the main plaza entrance.
Celebración attendees will enter through the west doors by the Wesley Room.
Doors will be propped open. Hand sanitizer will be available. Masks will be provided for those who do not have one.
All worshipers will be asked to enter the building and go straight to a seat in the Sanctuary (or Gym). Do not stop to socialize (but wave at all the friends you see!) Seats will be marked to allow for social distancing between families.
In Worship:
Offering baskets are available as you enter or as you leave.
We would love to hear you sing, but that can pose some risk, so sing softly (but with great rejoicing in your heart!).
When you exit the Sanctuary you will need to do so by row beginning in the rear of the room. Remember to keep that 6-foot distance between your family and the next one.
All worshipers will need to exit the building immediately so cleaning crews can do their work and ready the building for the next worship service (or to do a final clean before that crew is off the clock).
---