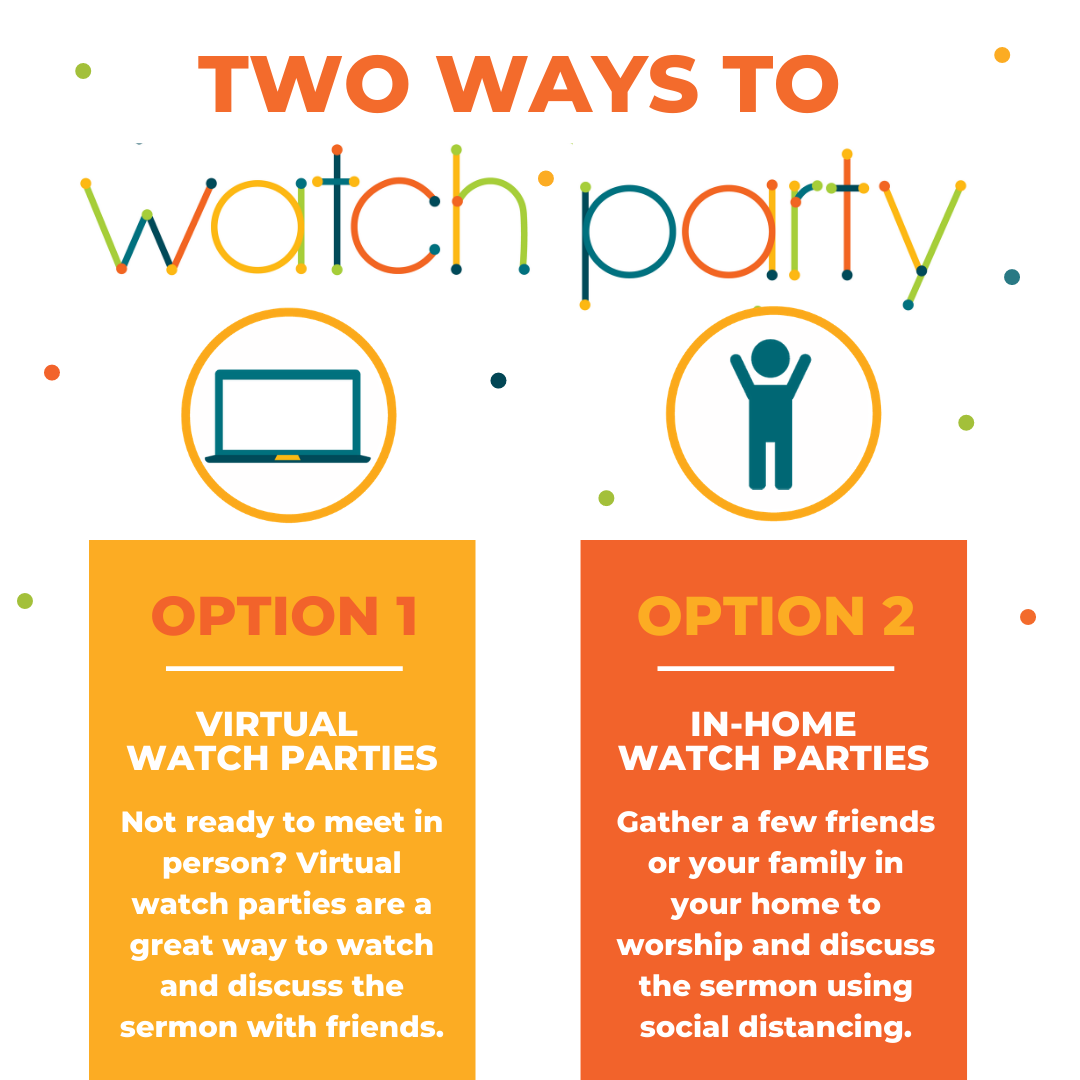 To learn more about how to start a virtual watch party or an in-home watch party, see the details below.
---
In-Home Watch Parties
An FMC Watch Party is a small, in-person gathering with a few friends (max 10 people) to connect and watch one of the online worship services together. To be part of a Watch Party, follow these 3 easy steps below.
Here's How it Works:
Volunteer to host a few friends or family members in your home. Even if you aren't watching the service with anyone outside your household, the discussion questions provided below can be an awesome way to process the sermon with your family.

When meeting, follow social distancing and good hygiene protocols. We suggest you wear masks, sit 6 ft apart, and avoid contact. Current health guidelines recommend meeting only with people in your age group and with no more than 10 people (children included).


Invite a few friends. Whether by text, phone, our FMC Watch Party Facebook Group or the old fashion way of calling, invite a few friends or family over to your place. Max of 10!


Gather together to watch the service and worship together! Watch the 9:00 AM or 11:00AM livestream service and consider discussing the sermon following the service (we will provide sermon discussion questions each week for you to download). Services can be streamed on our website at fmconroe.org/livestream on our Facebook page or our Youtube page.


Get Your Weekly Sermon Questions Here

Consider closing your time together with a time of sharing concerns and then praying together. Don't forget to check up on each other during the week.
---
Virtual Watch Parties
If gathering in person is not something you are able to do or are comfortable with at this point, you can always host a virtual meeting with a few friends by following these 4 simple steps.
Choose your group members (could be your S.S. class, existing small groups or a couple of your friends). Invite them to be a part of your watch party.
Choose a virtual platform for your meeting. Zoom, Google Hangouts, Facebook Rooms or a simple phone call.
Meet together to watch the live-streamed service, discuss the weekly sermon questions or both.
---
Need Help Getting Connected?

Join Our Watch Party Facebook Group
If you want to be part of a Watch Party but are unsure how to get connected, feel free to network on our Facebook group to let people know you are interested in joining or hosting a Watch Party.