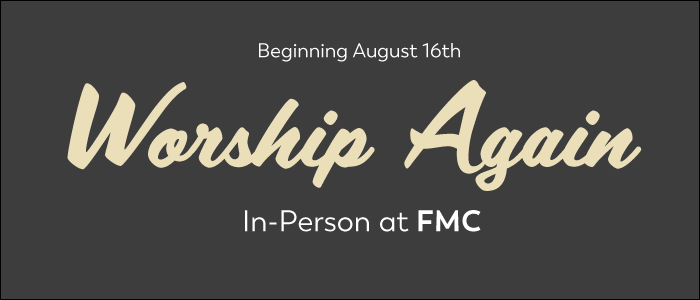 Var la Guia de Reapertura Completa
The current COVID-19 situation continues to change along with recommendations about staying at home and the practices of social distancing. We give thanks to God that our faith remains strong and well-anchored in the storm. The gift of the Holy Spirit given to us by Jesus is fully alive and at work in us. We continue to pray for your peace and health and to make plans that best serve our church and our community.
With this in mind, we have made the decision to keep the church building closed through July. We are working toward an August reopening of in-person worship. All activities at the church are canceled for now. We encourage you to reach out to one another by phone, text, and email as you can. So many are doing a great job at caring for one another even in new and distant ways.
Please take the time to review this page for additional ways you can stay informed and remain connected with First Methodist Conroe during this time.
To hear archives of calls with medical professionals of Methodist Hospital updating church leaders on the COVID19 situation and best analysis of what we can do, click here.
---

WE ARE HERE FOR YOU!

ONLINE WORSHIP
Join us for worship online each Sunday at 9:00 a.m. and 11:00 a.m. on Facebook, Youtube and our website.
If you or someone you know does not have access to internet, please dial 936-247-5004 to hear the sermon instead.

---

GIVING OPTIONS
Thank you for your continued generosity that allows our church to be a strong presence of hope in times when the world needs it most.
---

SERVE OUR COMMUNITY
Help share God's love to our families, neighbors, and world.
---

KEEPING YOU CONNECTED
Stay in touch with your small group and Sunday school class.
---

CHILDREN AND YOUTH
We believe one of the best things that our children's and student ministry can do at this time is help parents with the formation of their child's faith and character at home. Stay engaged every week with relevant and useful curriculum.
---

SOCIAL MEDIA - FACEBOOK
Many of you may already use social media in your daily life and know what a great tool it is to stay connected with each other. We'd like to keep you informed in all we can through our Facebook pages.
---

PRAYER REQUEST
Please let us know how can we pray for you by submitting your prayer request!
---

SPIRITUAL RESOURCES
Worship at any time that is right for you!
---

CONTACT US