New Kids Worship - 9:30AM & 11:00AM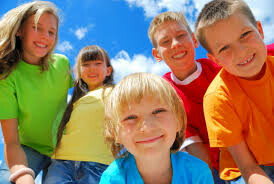 Babies through 5th Grade will have a new and exciting worship experience at 9:30am and 11am, which includes fun songs, Bible stories, and games and activities that reinforce core biblical truths.
Kids will love this new program!
New Children's Curriculum
Our new Kids Worship uses the Orange Curriculum for babies through college that influences kids toward a lifelong faith in Christ through memorable, easy-to-implement, gospel-focused experiences that emphasize parent and small group relationships. It's also a strategy that combines the church and family in discipleship.
To learn more about our kids programming on Sunday mornings, please click below:
Children's Check-in
Check-in your child at the designated check-in stations, which will be at the nursery for preschoolers, and at the entrance of the Children's area for elementary age children. Parents will use the kiosk to check-in their child and print a label for their child and a matching one for themselves. There will be a member from the welcome team present to assist, welcome and direct new guests. There will also be a self check-in option through our church mobile app.