Ways to Serve

Our current situation has opened the hearts of many who are ready and eager to help our community. There are various needs in our world, starting in our very own community.
Below are ways you can help share God's love to our families, neighbors, and world.
---
Summer for Others
Food Donations
Bring a large bag of groceries for a child who is out of school this summer! We will be collecting bags at Community Assistance Center at 1022 McCall Ave. Conroe, Texas 77301 on June 18th at 1:00 pm.
If at all possible, use a large paper bag. You can always provide more than one bag, but please make your bags as similar as possible.
Include only the following items:
· Peanut Butter
· Jelly
· Cereal
· Corn
· Canned Fruit
· Green Beans
· Soup Ravioli, Spaghettio's, etc
· Individual Juice Boxes, Capri Sun, Kool-Aid
· Snacks-muffins, granola, crackers, cookies, etc
If you are interested in helping with this easy but greatly beneficial service, please contact Rev. Janet Stilwell, at
In your email please provide how many bags you would like to bring.
---
HOME SEWN FACE MASKS
Due to the recent requirement for all Harris County residents to wear face masks in public, there is a large demand for home-sewn masks in the Houston area. If you can spend some of your time putting these together, we will make sure they are distributed to individuals who need them most. A collection bin is located at the Chapel Entrance to the church. Hope Disaster Recovery will be collecting the masks on Fridays.
Please contact Tracey Fritsch for a time and a place to drop off the masks you make.
Due to the possibility of church services opening in the future, we are asking for face masks to be sewn to have available when we begin worshiping together again. Please contact Tracey Fritsch at tracey.fritsch@gmail for a time and a place to drop off the masks you make. Please use the pattern located below for this effort.
We will continue to be a collection point for Hope Disaster Recovery, so if you would like to make masks for this effort, the bin remains at the Chapel Entrance for collection on Fridays. Please place your masks in closed plastic bags for easier handling.
HOW TO MAKE A FACE MASK


Materials
cotton fabric, tightly woven
1/8" elastic
Tools
sewing machine and thread
scissors
ruler
sewing pins or clips
INSTRUCTIONS
Cut the fabric. For an adult size mask, cut 1 fabric rectangle 15.5″ long and 8.5″ wide. Then, cut 2 pieces of elastic, each 7″ long
For a child-size mask, cut 1 fabric rectangle 13.5″ long and 6.5″ wide. Then, cut 2 pieces of elastic, each 6″ long. (If you are using ties, make 4 18" long ties.)
Sew the top side, with pocket
Fold the fabric in half, with the right sides facing each other.
Sew along the 8.5″ width edge, using a 3/8″ seam allowance. Leave a 2"-3" opening in the center of this seam to create an opening for the filter pocket, and to allow the mask to be turned right side out after sewing.
Optionally, topstitch: Press the seam open. Turn the mask right side out, and topstitch/zig-zag stitch along both sides of the seam for a neater edge. Turn the mask wrong side out.
Pin Elastic
Pin one piece of elastic to the top and bottom of the short side of the fabric rectangle to create an ear loop. Place the elastic 1/2 " from the top and bottom edge of the fabric. Repeat this process on the opposite side. (If using ties, stitch one to each corner.)
Sew the Sides
Sew the sides of the facemask. Backstitch over the elastic to secure it.
Turn the mask right side out and press with an iron.
Sew the Pleats
Create three evenly spaced 1/2" pleats. Pin the folds in place, and sew along the sides. Making sure all pleats are facing the same direction.
Note: When the mask is worn, the pleats should open downwards to prevent any particles from collecting in the fold pockets.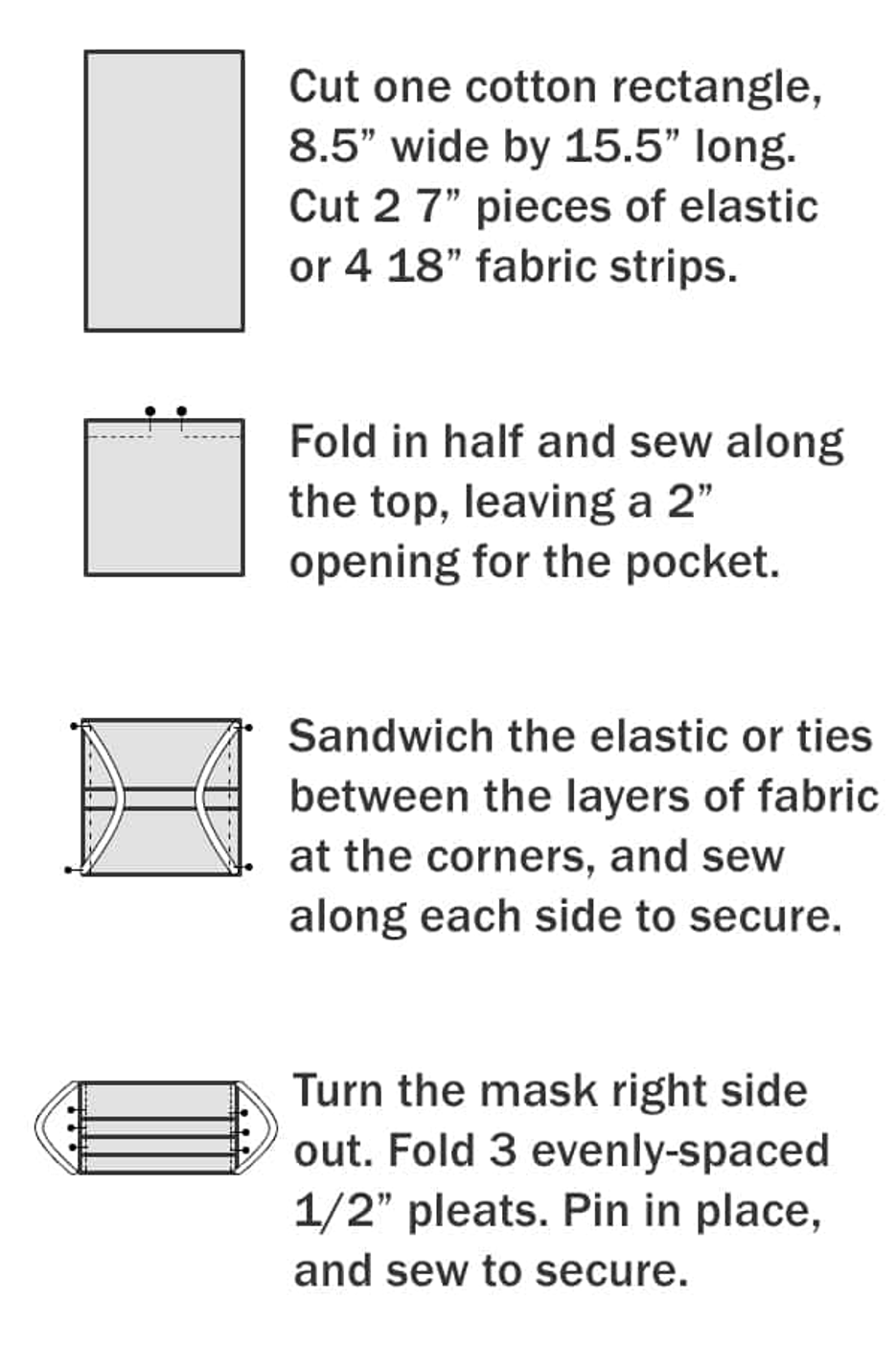 ---
NEIGHBORHOOD DONATION DRIVES
Neighborhood Donation Drives help you get to know your neighbors and help those in need in our community. This is how it works….
INSTRUCTIONS
Download a Neighborhood Donation Drive Card. Use one of our pre-filled cards. Click here to access card.
Right now, we are collecting for those in our congregation who are experiencing severe economic challenges. You are also welcome to collect for other organizations, but you will need to fill out a generic donation card. Click here to access card.
Decide when you want to pick up the items from your neighbors. Make sure you list this date on the card before you distribute. If you have an email list of your neighbors, send out an email to give them information about

who will be receiving the donations.

Distribute the cards 3-4 days before your pickup date. Put the card on your neighbors' doors or front porches, somewhere where they can be seen.
Pick up the donations on the date you designated and be careful in the way you handle the items. Please use latex gloves or hand sanitizer as you pick up donations.
When you have finished collecting, contact Rev. Janet Stilwell at to arrange for a drop off time and location. We will make sure the items get to the families in our church who need them the most.
---
MONTGOMERY FOOD BANK
Montgomery County continues to need volunteers to help with the sorting and distributing food for their community Mobil Markets.
You can sign up at https://mcfoodbank.volunteerhub.com/
You will need fill out a volunteer information form and then click on one of the available dates to work.
---
SCRUB HATS
Several local area hospitals have shared a desire to have scrub caps. In some cases, the need has to do with personnel being assigned to areas different from their normal assignments. Fun prints help lighten the mood of their work and are appreciated. Below is an online tutorial on how to make them.
HOW TO MAKE A SCRUB HAT


---
QUESTIONS?