How Can We Celebrate Holy Week and Easter Together as a Family?
Easter Sunday
The most important thing we can share with our kids is the story of our risen savior! Here are some fun ideas to help your family share the joy of Easter together at home this year.
Easter Jam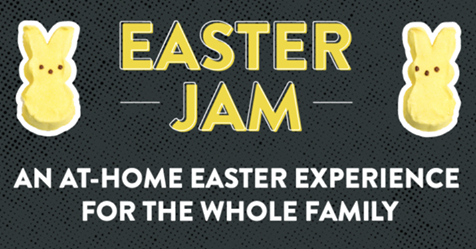 An Easter Celebration BIG enough for the whole family. This video plus a few supplies (listed below) are everything you need to have a fun, memorable, and family-centered celebration around the Easter story. Easter Jam is full of engaging activities, an Easter story presentation everyone can understand and enjoy, family questions to spark conversation, and a fun song to sing or dance along to!
So download the activity guide for all the game instructions, gather your supplies and your whole family (yep, even the high schoolers) and watch the video whenever works best for your family!
Activity Guide: https://theparentcue.org/easter
Resurrection Rolls
What better way to teach the story of Easter than a visual of the empty tomb? This simple snack can be created by placing a marshmallow dipped in butter and cinnamon sugar into a crescent roll and sealing it completely. Kids will see the marshmallow before it's baked - but once you take it out of the oven you'll have a sweet surprise!
Easter Fingerprint Canvas
All you'll need are some small, blank canvases, masking tape, and some bright colored paint! You'll make a cross on the canvas using the masking tape and have the kids paint their fingerprints all around the outside of the cross. When you remove the tape, you're left with a beautiful cross painting, but with the added personal element of their sweet little fingerprints!
When In Doubt, SING!
Kids LOVE music. Check out this kid's worship song to remind your children of the Easter message.
---

For more fun resources that your kids will love, follow us on our Children's Ministry Facebook page at www.facebook.com/FMCChildren/.
Happy Easter!!