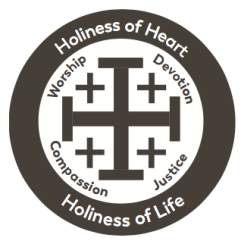 OUR MISSION: TO MAKE DISCIPLES OF JESUS CHRIST.
OUR METHOD: PURSUING JESUS THROUGH HOLINESS OF HEART & LIFE.
---
Holiness of Heart | Loving God


Acts of Worship
Worship is one of the means of grace that we exercise together publicly; it is a group pronouncement of God's grace-filled presence in our lives.
Some examples of acts of worship are:
Receiving the sacrament of Holy Communion as often as possible
Giving our financial resources to the work of Christ in the world
Singing and praying together
Hearing the scripture read and preached upon
Living into the command not to neglect meeting together
Encouraging one another experience the fullness of God
Acts of Devotion
Devotion is a means of grace that we encounter through personal spiritual disciplines. The disciplines of devotion build our personal relationship with God.
Some examples of acts of devotion are:
Singing
Praying
Fasting
Reading and reflecting on the scriptures
Meeting in small groups and bible studies
Journaling
Intentional Silence


Holiness of Life | Loving Neighbor

Acts of Compassion
Compassion is part of what John Wesley called works of mercy, in which Christ's followers respond to the suffering of those around us.
Some examples of acts of compassion are:
Serving in our church and community
Visiting the sick (those suffering in mind or body)
Feeding the hungry
Clothing the poor
Tending to neighbors and friends
Treating all people with respect and dignity
Acts of Justice
Justice is the public response to an underlying cause of suffering in the world, in which we not only minister to people in need but also ask why they are in need.
Some examples of acts of justice are:
Advocacy for children
Peacemaking in our community and world
Witnessing to the power of Christ
Oppose injustice, in whatever form we find it
Standing up for those who are not present or able to stand up for themselves
Supporting institutions and systems working for the common good of those in need